PMG Super Buffer Amp BUF E945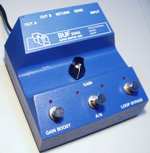 Condition: Used
In stock? This item is currently out of stock.
Description
You may be interested in these items:
The Hosa Audio Line Switcher SLW-333 allows you to switch back and forth, noiselessly, between up to three powered monitors. The versatile design has 1 IN (source)...
more info
Condition: New
Our price:
$90.00
The Audio Signal Switcher ASS-1 from Audible Disease is a simple passive signal-switching device that takes either one input and lets you switch between two outputs or run...
more info
Condition: New
Our price:
$70.00