Crack Fierce Ring Mod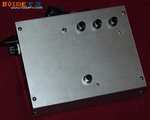 Condition: Used
In stock? This item is currently out of stock.
Description
Extremely limited and handmade by the infamous Japanese noise artist Hideki Kato AKA Crack Fierce. This ring modulator is extremely loud and can produce a wide range of modulated sounds. In an attempt to explain what exactly this thing sounds like, we have concluded that it would be better to listen. Check out the sound sample on this page. Toward the bottom of the face you will find the bypass switch. Toward the top there is a switch that appears to do some sort of hi/lo pass filtering. Two of the three knobs at the top are something like frequency controllers and the remaining one is sort of a level control. This runs off 100 or 120 volt AC and plugs right in to the wall. No batteries or adaptors needed.
You may be interested in these items:
Here we have a 8 inch (diameter of actual playing surface) Remo Practice Drum Pad that has been fitted to work as an electronic drum pad. It has...
more info
Condition: Used
Our price:
$45.00
Here we have a cymbal pad that can be used with electronic drums. The unit itself has a 1/8 inch jack but an adapter that goes to .25...
more info
Condition: Used
Our price:
$19.95
The Blackbox Ultraviolet is a dual channel fuzz with an active filter section. From warm, tube-like distortion to in-your-face wall of sound fuzz, the Ultraviolet features an enormous...
more info
Condition: Used
Our price:
$239.00
The Boss Foot Switch FS-5U is a rugged momentary (non-latching) type footswitch. Connect it to any other device to engage a function while you hold down the switch. Has...
more info
Condition: Used
Our price:
$18.00
The insanity that can be heard from the Audible Disease Rupture RP-1 is just a twist of a knob away. The Rupture creates a feedback loop that takes...
more info
Condition: New
Our price:
$80.00
The Electro Harmonix Nano Bassballs is the exact twin of the legendary EH Bassballs. It uses two critically tuned, sweeping dynamic filters that respond sensitively to attack variations...
more info
Condition: New
MSRP: $110.00
Our price:
$82.50
The CBI CB2-AN421 is an adapter that ideally allows you to connect two XLR cables with female ends together. Both sides of the adapter have male XLR connectors....
more info
Condition: New
MSRP: $15.45
Our price:
$12.90
The One Loop from theSYLE allows you to engage or bypass an entire chain of pedals with one switch. The LED lets you know when the loop is on...
more info
Condition: New
Our price:
$75.00